DISTINCTIVE WEDDING PHOTOGRAPHY
If for Your Wedding Album, you desire elegant color imagery, classic black and white or creatively hand manipulated photographs,

GILMFILM WEDDING IMAGERY--WEB-SITE

can provide you the wedding memories of your dreams. Select traditional, ultra-modern or heirloom formats... or create a unique style of your own.

If you'd like to discuss any aspects of photographic or video imagery for Your Special Day...E-MAIL


Maui Wedding Blessings has many stunning OPTIONS which may be added as ENHANCEMENTS to Your Wedding Package...
Traditional
Conch Shell Blower
Fire/Knife Dancer and
Drummer

from $130 per person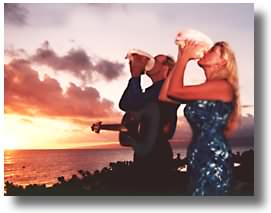 Kissing Dolphin
Champagne Glasses

Custom fabricated by Maui glass artists; personalized with names and wedding date engraved.
(Other sea creatures available:
breaching whales, fish, sea horses.)

$125 per set

Standard Champagne Glasses with personalized engraving are
$35 per set.
Private sumptuous oceanfront lanai wedding and reception location
from $350.
White Dove or Butterfly Release from $60.
Fresh Floral Ring of Love from $100.
Photography and Videography Packages from $250.
Vintage Limousine from $360.
Wedding Bouquets from $60.

Call us at 808 879-9932 or 800 670-6151 ext01 to discuss specific detail questions and we'll cheerfully prepare a price quote. We can begin arrangements for
Your Special Day when the date you request has been confirmed as available and the reservation deposit has been received.
FULL SERVICE
WEDDING CONSULTANTS

Let Maui Wedding Blessings arrange once-in-a-lifetime entertainment and very upscale transportation for
Your Special Day.

E-MAIL

MAUI WEDDING BLESSINGS
For additional choices in planning and customizing
Your Once-In-A-Lifetime Day, click an icon below:


CLICK HERE: HOME | WEDDING PACKAGES | WEDDING PLANNER




&COPY MAUI WEDDING BLESSINGS 2002