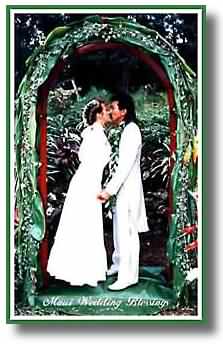 WEDDING PACKAGES
MAILE LEI
Minister
Tropical Beach or Park Location
Marriage License Appointment
2 Fresh Hawaiian Flower Leis
Wedding Certificate
Witness (if needed)
$199 (Kihei/Wailea areas only)
$250 All other Maui locations.
SACRED HAWAIIAN WEDDINGS

These traditional ceremonies include a minister in Hawaiian Ceremonial attire; Ancient Hawaiian Union Chant; Conch shell blowing; Sacred Wedding Bundle; Fresh Flower Leis and more!

"BREATH OF LIFE" ceremony--

from $250
"HAWAI'I KAHIKO" ceremony with full protocols--from $450

**Elements of the above Sacred Hawaiian Protocols may be individually added to western style wedding ceremonies.
Details and prices are available upon request.

JASMINE DREAMS

Minister
Tropical Beach or Park Location
Marriage License Appointment
2 Fresh Hawaiian Flower Leis
Aloha Wedding Certificate
24 Photos in Album
Gourmet Chocolates Wedding Gift

from $549


Rev. Detchen
Our Mermaid
Minister

A WEDDING IN THE SEA

This remarkable ceremony is performed in the warm waters of our Hawaiian ocean by our "Mermaid Minister" and a ceremonial assistant/witness. It includes all necessary snorkeling equipment, fresh Hawaiian flower leis and underwater photography. Details available upon request.


from $649
ORCHIDS AND RAINBOWS

Minister
Tropical Beach or Park Location
Marriage License Appointment
Bride's Cascade or Hand-Tied Bouquet
Groom's Boutonniere
2 Fresh Hawaiian Flower Leis
Gourmet Chocolates Wedding Gift
8" Wedding Cake with Fresh Flowers
36 Photos in Album
Customized Wedding Certificate
On-Site Co-ordinator

from $869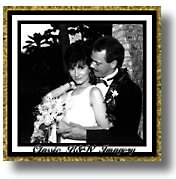 GINGER DELIGHT

Minister
Helicopter to Tropical Waterfall Location
Marriage License Appointment
Hawaiian Guitarist/Vocalist
2 Fresh Hawaiian Flower Leis
Gourmet Chocolates
Sparkling Cider Toast
Customized Wedding Certificate

from $1655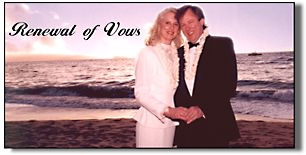 LEHUA BLOSSOM

Minister
Tropical Beach or Park Location
2 Fresh Hawaiian Flower Leis
Marriage Renewal Certificate

$199 (Kihei/Wailea areas only)
$250 All other Maui locations.

TIARE GARLAND

Minister
Tropical Beach or Park Location
2 Fresh Hawaiian Flower Leis
12 Photos in Memory Book
Marriage Renewal Certificate

from $369

For information on personalizing Your Wedding
click on "More Options" icon below:

CLICK HERE: HOME | MORE INFO | WEDDING PLANNER
&COPY MAUI WEDDING BLESSINGS 2002